"The aim and final end of all music should be none other than the glory of God and the refreshment of the soul."
— Johann Sebastian Bach
Music has an integral place in worship, heightening and unifying the experience.
The choir supports the congregation in singing and as such provides praise and prayer through song. Our set-aside choral pieces (usually twice a month) enhance with inspiration and reflection.
Although we are small in number we are mighty in spirit, and talent! On any given Sunday you may hear:  piano, harp, accordion, violin, guitar, ukulele, French horn, mandolin…and the list goes on.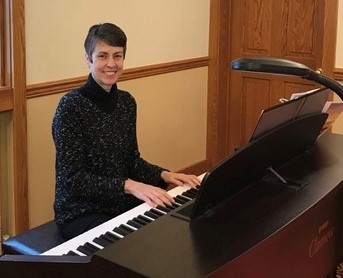 Consider joining the Mayfield Choir! Members and friends of the church are welcome. It is a non-audition group and singers of all voice types are welcome. Rehearsals are on Thursday nights, 6:30-7:30 pm, September through early June. Share your love of music, enjoy wonderful fellowship and support our worship.
---
Jen Jencks Conley, Music Director at Mayfield Church obtained her degree in music on the violin with a minor in voice. She is a Board Certified Music Therapist and works for Northwestern Medicine Hospice in DeKalb. She comes to Mayfield with years of experience in music ministry and music for healing.  Jen is also a singer/songwriter, multi-instrumentalist and has served as a studio musician on multiple professional CD recordings.