The Mayfield Church congregation is missions driven.  We strive to be God's hands and feet in our local community and in Our Church's Wider Mission.  In that spirit, Mayfield Church is an active, hands-on community of Christians.
Giving Locally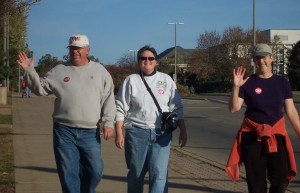 We are situated in the most fertile farmland in the nation, and because of our strong ties to agriculture in this area, hunger relief has always been one of our most passionate commitments.
Team Mayfield walkers raised funds for the 2015 Sondra King Memorial Northern DeKalb County CROP Walk, 25% of which stays in the local community.  Mayfield has supported Church World Service and CROP hunger programs for decades.
Other activities in Mayfield's Missions program include:
Wrapping gifts on Toys for Tots "shopping" day at the Salvation Army in DeKalb, IL
Creating a Monarch Butterfly Garden as a waystation to help save the Monarchs on their way to Mexico.
Sponsoring the entire secondary education of a Kenyan girl at Jane Adeny Memorial School, Kisumu County, Kenya

(See the Daily Chronicle's "Face Time" interview with Diana Swanson regarding the Monarch Waystation and Jane Adeny Memorial School here.)

Packing and shipping storm emergency cleanup buckets to support relief after natural disasters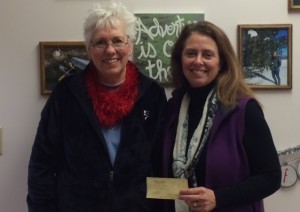 Mayfield's Fellowship meets the second Thursday of each month for a luncheon and to hear a speaker about community projects and or organizations. The Fellowship also raises funds, through Attic Treasures and Bake Sales at our Pancake Breakfast events in the Fall and Spring, and distributes donations each year to local charitable organizations in the area, such as:
Adventure Works DeKalb County,
DeKalb County Court Children's Waiting Room,
Safe Passage Domestic Violence Shelter, and
Other social service agencies.
United Church of Christ
The Mayfield Church Congregation is committed to supporting Our Church's Wider Mission by joining forces with other United Church of Christ congregations to address many human needs beyond our own neighborhoods.  We know that our combined efforts make positive change happen on a scale not otherwise possible.
As a Five 4 Five congregation we support the following:
Our Church's Wider Mission
Makes the UCC mission possible at the Illinois Conference level, supports new church development, responds to community and or weather related disasters, funds new and renewing churches and supports Illinois Conference associations and leadership teams.
One Great Hour of Sharing
Unites with eight denominations worldwide by providing humanitarian needs of health care, clean water, food, and refugee relief and re-settlement services.  Also supports domestic and international preparedness and response.
Neighbors in Need
Provides ministries of justice and compassion in the USA by supporting the UCC's Council for American Indian Ministries, service projects for Justice and Witness Ministries.  Advocate for policy reform – e.g. immigration.
Christmas Fund
Contributes to low-income UCC retirees, provides emergency assistance to clergy families and makes Christmas gift checks to hundreds of annuitants.
Strengthen the Church
Supports the "Still Speaking" ministry of the UCC and youth leadership development programs. Provides leadership for new and renewing churches and returns fifty percent of all gifts and offerings to Conferences.