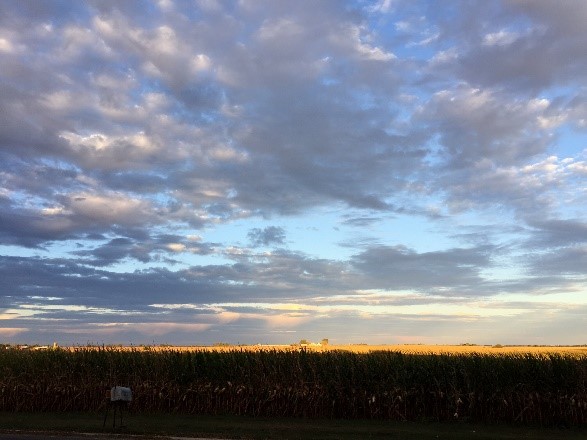 Prairie skies have been beautiful of late!
Are you missing a nice lime green, folding, outdoor chair and a green, metal, John Deere coffee mug?  They are both in the waystation waiting for you to claim them.
Randy Caspersen's Go Penguins!
Randy Caspersen, the filmmaker and Assistant Professor in the Department of Communication at NIU, who has been carefully documented the development of the Monarch Waystation these last few years has a film, Go Penguins!, in NIU's Fall Diversity Series. Randy's film on The Penguin Project, a local theatre troupe which features children and young adults with developmental disabilities in lead and ensemble roles, will be shown on Wednesday, October 4, 6 pm, Sandburg Auditorium at NIU. Seven Mayfield children and accompanying adults saw the most recent Penguin Project production on biblical Joseph and his beautiful coat this past Sunday. Thank you Randy for documenting this wonderful local arts effort.
Good News for the Monarch Waystation
Mayfield's Monarch Waystation will be a featured stop next July on the Master Gardener 2017 Garden Walk in DeKalb County.  Peggy shared this great news.
CWS Hygiene Kits
We are ready to assemble our 50 hygiene kits for Church World Service. If you have not yet brought your items in, please do so by this Sunday, October 8.  Thank you.
October Mission Efforts
During October we are collecting funds for pharmacy students at the University of Houston's College of Pharmacy in the wake of Hurricane Harvey. We are offering our gifts to others being collected by UIC College of Pharmacy Rockford for students at their sister pharmacy school. October is also the month when we participate in the UCC Neighbors in Need (NIN) offering.  NIN information can be found in worship bulletins throughout the month. When writing checks or offering cash gifts for either of these mission opportunities, please write your checks to Mayfield UCC and mark your check or envelope carefully for Pharmacy Students and/or NIN.
Mayfield Fellowship Meeting – Thursday, October 12
The Mayfield Fellowship will meet at 11:45 am at church on Thursday, October 12 for a potluck meal and program by Mr.Mohammed Labadi of the Islamic Center of DeKalb. There is a sign-up sheet in our Gathering Area for you to indicate what dish you will bring to share. Come and join us for this important interfaith event.
Upcoming Events
October 8 – Healing Beats Drumming Circle at Hospice Office, 3:00 pm
October 11 – Church Council Meeting at 6:00 pm
October 12 – Mayfield Fellowship Meeting
October 15 – 167th Anniversary Celebration at Mayfield – worship to be followed by a celebratory meal.  Delicious pork and potatoes will be provided for lunch. Bring a side dish or dessert to add to our table.
October 22 – Fall Pancake Breakfast – 6:30 – 11:00 am. Many hands will be needed for various breakfast jobs. These sign-up sheets are in the Gathering Area too. Are there friends and neighbors you can invite to join us for a delicious meal that day?
November 5 – Memorial Sunday
Choir practices on Thursday evenings.  See or ask Jen for further details.
SAVE ALL PLASTIC BOTTLE CAPS PLEASE
We are saving plastic caps:  any plastic cap from pill bottles, soda, tea, or water bottles, laundry detergent, shampoo, peanut butter, mayonnaise, salad dressing, and many others. Our goal is to collect 800 pounds of plastic bottle caps. There is a company in Indiana that turns plastic caps into beautiful benches, 400 pounds of caps per bench. Our plan over the next couple of years is to have two such benches made for the area of the Monarch Waystation. All bottle caps should be rinsed out and clean. If you get them to church, we will begin to weigh them and store them. Recruit members of your family, your 4H group, your school, your card club, your book club, recruit everyone you know to join us in this colorful and fun collection.