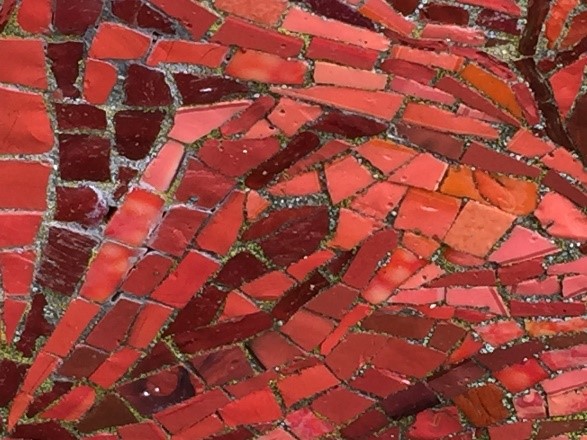 This Sunday, June 4, is Pentecost, the third great festival celebration in the Christian year, fifty days after Easter morning. Fire is one of the symbols for Pentecost. You are invited to wear something on Sunday that is flame colored – red, yellow, orange, or even a bright pink. May our pews blaze with the fiery energy of spirit.
2017 Bike MS Tour de Farms at the Carlson Farm
Once again the Carlsons are hosting the first rest stop along the route of the Tour de Farms on Saturday, June 10. Our help is needed throughout the morning in setting up and cleaning up and in welcoming the riders. Volunteers are being recruited as well for the finish line later in the day on Sunday, June 11. Let Dawn and John know if you would like to be a part of the crew at the farm or finish line
June Church Council Meeting – Wednesday, June 14 – 6:00 pm
Your Father's Day names and offering ($5 per name) are requested in the church office by Wednesday, June 14. There is an offering form attached with this memo. This year's offering will go to the Adopt an Apartment Program in Rockford, a project actively supported by our sister congregation, Spring Creek UCC.
Mayfield Fellowship is Going to Walnut Grove Vocational Farm (WGVF)
The June meeting of the Mayfield Fellowship will be held on Thursday, June 15. We will be touring the Walnut Grove Vocational Farm, a program of the DeKalb County Community Gardens at 33600 Pearl Street, Kirkland, IL (1.5 miles north of Kirkland). The WGVF offers agricultural and horticultural training for people with special needs through an integrated and supportive setting.  We will meet at Walnut Grove at 11:00 on June 15 for the tour and then will go to Crumpet's in Genoa for lunch at 12:30. If you would like to carpool that morning, meet in the church parking lot at 10:30 am. JoAnn will have a sign-up sheet for this Fellowship meeting at church on June 4 and June 11.
Mayfield Annual Canoeing/Kayaking on the Kish and Picnic at Phyllis' Farm
On Sunday afternoon, June 18, we will put into the Kish at 1 pm and will begin to eat around 3 pm. Bring a side dish or desert to share. This is an afternoon for all ages. Some of us go out on the river before we enjoy the picnic, and others just take in the picnic. There is usually a hayride too. It is a great time to introduce friends and neighbors to Mayfield. Who might you invite?
Mayfield Monarch Car Wash
For a third year, our Sunday School children will host a car wash to benefit our Monarch Waystation on Sunday, June 25.  Vehicles will be washed after worship. A free will donation will be taken. Come one, come all. Your support for our children and for the Waystation will be vital. Thank you!!! It is time to re-mulch the Waystation. Funds raised at the car wash will be used to buy lots of needed mulch.
A Request from Marlo for Haiti
When Marlo is in Florida during the cold months, she is active with a sewing group that makes clothing from gently used pillowcases for young children in Haiti. If you are cleaning out your linen closet or see pillowcases at garage sales, pass those pillowcases on to Marlo. The Florida sewers could also use buttons, rickrack, and other trims. Please no thread unless it is new. Older thread is very brittle.
Flower Power – Bulbs for the Fall
The catalogue has recently arrived for the Flower Power bulb sale that will take place later in the year. A copy of the catalogue is in our Gathering Area at church. Take a look if you would like a sneak peek at what will be for sale.
Northern Illinois Food Bank
Make a gift to the Northern Illinois Food Bank this month? Gifts can be placed in the food bank box or the offering plate. The Northern Illinois Food Bank has a summer meal program from June through mid-August at 120 sites throughout its thirteen northern Illinois counties. In April 2017, the USDA recognized the Northern Illinois Food Bank as one of the top 10 Summer Meal Program sponsors across the nation. They were the only Illinois awardee this year. It is an honor to support their vital work year round.
Peggy could still use the cardboard tubes from dry cleaner hangers for pollinator boxes. See her if you have some.