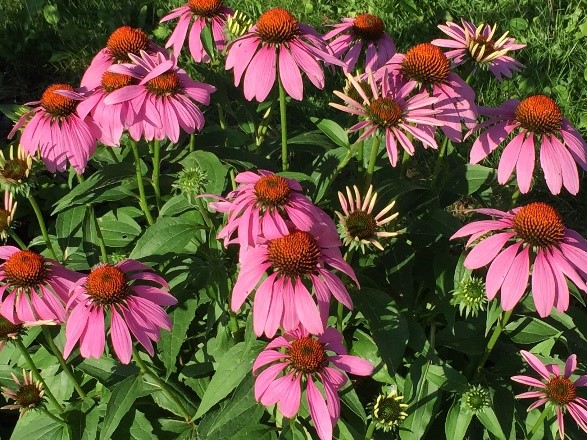 A Monarch flew over my shoulder as I took this picture of our coneflowers. There were other butterflies in the Waystation too.
This time last summer we were busy with various preparations and details for the September 2016 Prairie Association meeting and the October hosting of the DeKalb County Historical and Genealogical Society when they installed three Underground Railroad signs in the county. This summer is quieter, but many opportunities are there for your Mayfield participation. Check out the list below.
Mayfield – Mid-Summer 2017
Be in touch with Diana if you would like to help with ongoing planting and weeding in the Waystation.
Through the first Sunday in August, we are gathering in our Christmas in July Offering for the UCC Christmas Fund. This fund provides financial support for pastors and lay church workers in times of financial hardship.
There are opportunities available for you to be liturgist or fellowship provider during August. Check the sign-up sheet.
The August meeting of the Mayfield Fellowship will be held at Shabbona Lake State Park on Thursday, August 10 beginning at noon, Pokanoka's Café. More details to follow.
Throughout July and August we will receive your gifts for the Northern Illinois Food Bank. The DeKalb County Community Garden's Grow-mobile is a recipient of Northern Illinois Food Bank funding.
The Healing Beats Drumming Circle meets at the hospice office on Sunday, August 13, 3:00-4:15 pm. Talk to Jen for more information.
Later this summer we will begin our second Flower Power fundraiser featuring fall bulbs. There are catalogues at church.  See Dawn for more information.
Peggy is hosting a time for us to visit the Monarch nursery in her backyard Sunday afternoon, August 20.
Have you taken a walk on our labyrinth yet? It is waiting for you on the lower level of the church.
There were some pollinator tubes left over from Father's Day, this year's gift from our children.  Peggy took the extras for the kids in one of the weeks of summer camp at Russell Woods.  They were a big hit.  One of the pollinator tubes hangs in the linden tree between the deck and the waystation.