Mayfield Advent Memo
December 11, 2017
Throughout Advent 2017 we are exploring the theme, Bound Up with You, as inspired by this quote from Desmond Tutu: "My humanity is bound up with yours, for we can only be human together." The illustration above is from this year's Advent banner, a work in progress, under the direction of Roger and Becky.
Welcome to Billy and Theresa Scott, our newest members. They joined at Mayfield on Sunday, December 3.
Sunday, December 17 – Third Sunday in Advent (Joy) – Intergenerational Advent Event
Sunday, December 17, with the help of our children, we will enjoy another Intergenerational Advent Event. A brief worship service will be followed by a number of Advent participation stations featuring mission involvement, music, walking, and art activities. We will be bound up that morning with the cosmos, with the journey of Mary and Joseph, with the creatures, with the gifting ones, with the singing of heaven and nature, and with a star to follow. The color for the third Sunday in Advent is rose.  Do you have something pink you could wear? Who would you like to invite to join us?
Sunday, December 24 – Fourth Sunday in Advent (Love) and Christmas Eve
10:00 am – Fourth Sunday in Advent – please bring a candle with you to worship. It could be a tea light, a pillar candle, a taper in a beautiful candlestick, any candle that you choose.
5:00 pm – Christmas Eve – you are invited to bring a picture, a symbol, an object of someone or something you would like to add to the typical Christmas manger scene. Worship will be shaped around a series of lessons and carols. Our fellowship time after the Service will feature a Bethlehem (house of bread) Table. Offer a holiday treat to add to the table and to share with others there.
Advent Mission Project – Music for the Jane Adeny Memorial School (JAMS)
Nelle Conley, one of Jen's daughters, is preparing to begin a vocal and instrumental music program at JAMS in the summer of 2018. During Advent this year we are raising money for the music stands that will be needed ($700 for 20 of them) and we hope to make a $300 contribution to the instrument fund too. Your generous support will be appreciated. Mark your envelopes and checks Music for JAMS. We are thrilled to support Nelle and JAMS in this effort.
Plastic Caps and Lids for Benches
Keep those plastic caps and lids coming! So many people and groups are helping us collect the 800 pounds of plastic we will need for two Waystation benches. There are several pharmacies, the NIU community, the hospice team at Northwestern Medicine Hospice DeKalb, a bunco group, scouts, and at least four area UCC Churches: Union Congregational in Somonauk, Federated in Sycamore, Garden Prairie UCC in Garden Prairie, and Woodside in Rockford. Thanks to Peggy for much of the organizing energy around this big project.
Toys for Tots
Once again we are giving gifts for older children and teens. Suggested gifts include the following: sporting equipment and balls, books, backpacks, clothing from NIU and area sports teams (Cubs, Blackhawks, Bears), skateboards and helmets, cosmetic and bath gift sets, purses, wallets, watches, board games, curling irons, hair straighteners, and hair dryers. Please place your gifts under the tree in the Gathering Area by this Sunday, December 17. Our wrapping day at the Salvation Army is Tuesday, December 19. We begin to wrap at 9 am. It is an all-day adventure. Let Dawn know if you can help and when and how long you can be there.
Poinsettias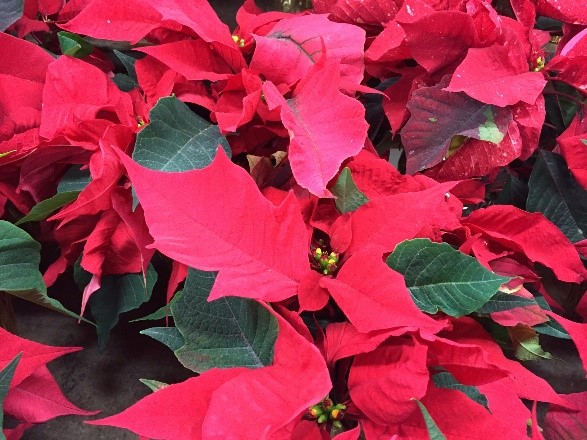 You are invited to add red, white, and pink poinsettias to our seasonal decorations on December 17 and December 24. Poinsettias first arrive in the sanctuary on the third Sunday in Advent as a sign of that Sunday's joy. Plants will remain in the sanctuary through Christmas worship. Thanks!
Thank you to Jan and Laura and John for decorating our sanctuary this year.
And thank you to Ann W. who hosted the December meeting of the Mayfield Fellowship on Thursday, December 7.  91 board books were collected that day for the Children's Waiting Room. And the Fellowship decided to send $200 checks to 8 area agencies with annual proceeds from Bake Tables and Attic Treasures at our spring and fall pancake breakfasts. Thanks as well go to June who will be assisting Ann T with leadership for the Mayfield Fellowship in 2018.
A Word from our Trustees:  Winter Weather Reminder
If you have any questions about whether worship is being cancelled on any Sunday this winter due to weather, by 7:00 am that Sunday morning you can check for an email blast or you can look on the front page of our website, www.mayfieldchurchucc.org.
There are sign-up sheets in the Gathering Area for sponsorship of bulletins in 2018 ($7 per week) and for liturgists and fellowship hosts in January 2018.
The return of your completed pledge sheets by mail to the church office or in the offering plate will be appreciated by Sunday, December 31, 2017.